Accounting System to Analyzed Data in Seconds
With just a few clicks, Strongbox transforms business financials into custom, actionable reports that empower you to do more with less.
Finagraph has been a trusted technology partner to accounting, consulting, and financial services firms for over a decade. With the launch of Strongbox, these firms can now analyze accounting data in seconds.
Strongbox is trusted by half of the Top 25 accounting firms in the US and some of the largest financial institutions in the world.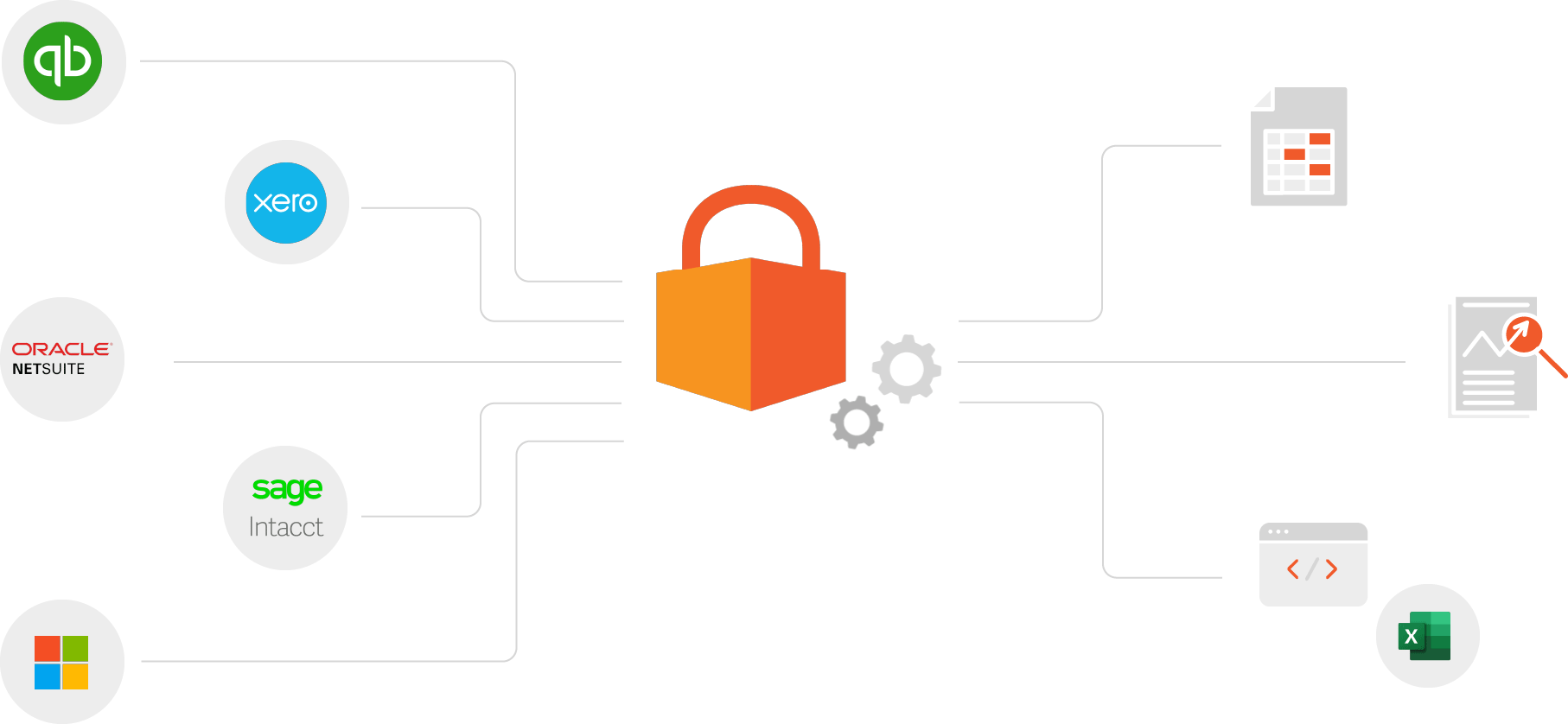 FAST FINANCIAL INTELLIGENCE
Strongbox is the easiest way to unlock financial intelligence from accounting data. With a few simple clicks, Strongbox securely connects to a business's accounting system. In minutes, you get a downloadable Excel workbook full of cleaned-up and analyzed data, completely ready for customization and manipulation.
MAKING FINANCIAL DATA EASY
Do more with less effort using the Strongbox Intelligent Data Pipeline that performs over 40 operations to the accounting software data in minutes. Here's everything that happens from first click to your ready-to-use workbook:
DATA COLLECTION
Raw data from the system gets processed using a standardized model, including account mapping.
50+ monthly data screens ensure complete, reliable data that's been subjected to a forensic check.
Strongbox performs comparison, trend, and cash flow analysis using leading KPIs and ratios.
Download the advanced Excel workbook with all this information as well as data visualizations.
Financial Due Diligence Firms
Outsourced Accounting Firms
Avoid time-consuming back and forths trying to get the financial documents your team needs by instantly connecting directly with the business's accounting software.
With just a few clicks, you will be able to export all the needed data into an Excel sheet that's custom to your firm's specific requirements with the added bonus of enriched analysis and visualizations already done for you.
Strongbox turns the business's financial records into custom intelligence that can be used to guide critical business decisions, all validated with over 50 validation checks. No more manual data manipulation!
Quickly monitor deals with visuals that allow you to spot concerns fast. Using machine learning, Strongbox goes well beyond what even expert analysts could spot.
​
We make it easy to try out the power of Strongbox yourself through a Risk-Free Pilot Program. Contact us today to get started!
​​
​Connect directly to the company's accounting system via Strongbox integrations.
Reduce data prep hours on every deal, leading to better margin for the firm.​
Less time crunching numbers means more time for exciting, value-added work for clients.​
"Strongbox helps our staff streamline a lot of the front end efforts on a project. With the customization Justin and his team offered us, it also allows for the buildout of our baseline databook in a Bennett Thrasher client-ready template.
This helps our staff spend less time data mining and formatting and more time focusing on the analysis of the target company's financials."
Want to try Strongbox for yourself? Get in touch for more information, to schedule a demo, or to sign up for our Risk-Free Pilot Program.